Faculty: Becoming a Mentor

Program Expectations
In order to apply to the FMP, students must fulfill the following criteria:
Have a minimum GPA of 2.7 at the beginning of Winter Quarter
Have junior or senior standing. i.e. at least 90 units by the beginning of Winter Quarter 2020
Be able to participate in the program both Winter and Spring Quarters 
Be able to commit at least 10 hours a week to research-related activities for both Winter and Spring Quarters
If accepted to the program, students are required to:
Take 4 units of independent study (199) for credit Winter and Spring Quarters.
Turn in a research proposal at the end of Winter Quarter.
Present at at the FMP Symposium at the end of Spring Quarter.
Turn in a research paper at the end of Spring Quarter.
Faculty should plan on at least one hour of contact per week with your mentee(s). Many undergraduates are not seasoned researchers; they need to be trained and prepared for the work they are to perform with assigned readings and guidance in relevant research techniques. 
Student Selection
The Faculty Mentor Program can help match faculty or on-campus labs with undergraduates. Make sure to include relevant information regarding your requirements (such as GPA, work hours, lab experience, past coursework, etc.) and a description of the research you/your lab are conducting when you fill out the

 

Faculty Registration Form.
If you are not currently working on a research project but would like to work with an undergraduate who has a project in mind, just let us know what kinds of projects you would supervise and what you would require of your students.
If you already have a student and would like to participate, you can put them in touch with our offices, and we will help them fill out the necessary paperwork.
If you have a cohort of students in a program, you can coordinate with the Faculty Mentor Program. Contact Academic Enrichment Programs (AEP) at

 

aep@ucsd.edu

 

for more information. AEP is always looking to develop new programs to encourage undergraduate research.
Interested in Becoming a Mentor?
Complete the Faculty Mentor Program (FMP) Interest Form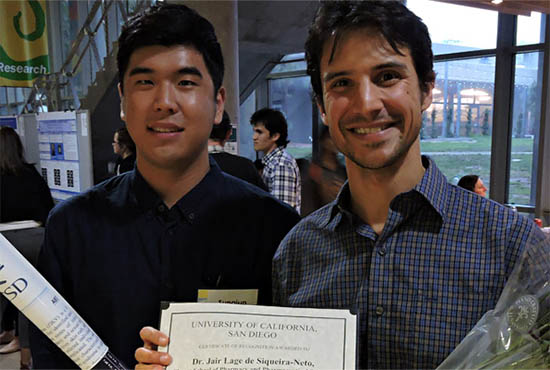 Mentor Spotlight
Each year, two mentors (one in the humanities/social sciences and one in the physical/material sciences) are given the Faculty Mentor Program Outstanding Mentor Award, nominated by FMP students.